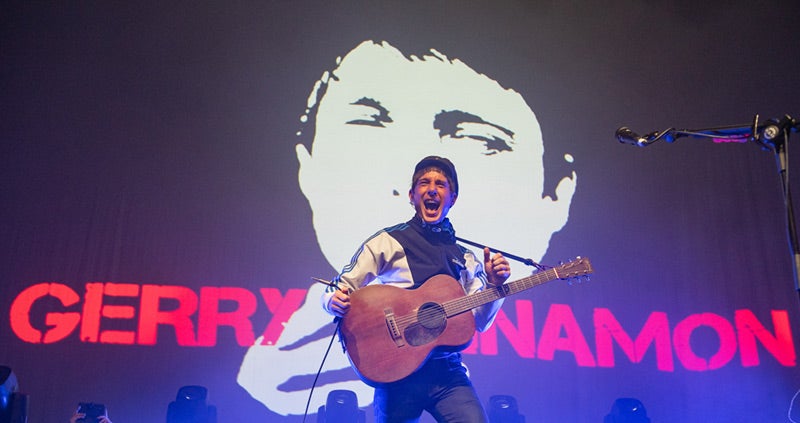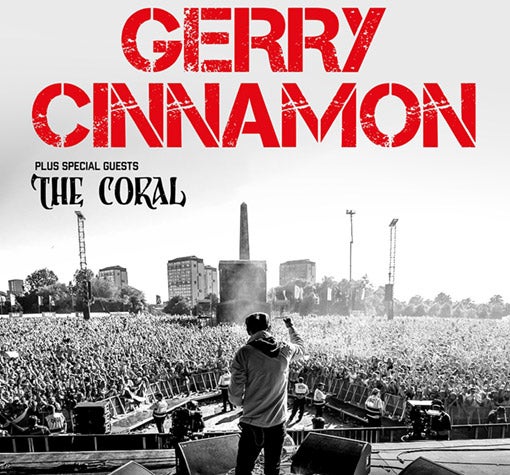 20 Dec

/ 19

DOORS: 18:30

Showtimes will be released approximately 3 days before the date of the event.

21 Dec

/ 19

EXTRA DATE ANNOUNCED DUE TO PHENOMENAL DEMAND
*Event timings issued are a guideline only and may be earlier or later than originally published.
Important Ticket Information
The name of the lead attendee will be printed on every ticket for the uk headline tour. On entering the venue, the lead attendee must present photo id matching the name on the tickets. Guests must all enter the venue at the same time as the lead attendee, as you can only gain access with id matching the name printed on tickets. Please don't buy from any secondary ticket sellers such, as those tickets will not be valid and you won't get into the show. Click below for more ticket information.
Gerry Cinnamon has announced his biggest Scottish headline shows to date.
Cinnamon teased the announcement last month around his latest release – Canter – following a sold-out arena tour across the rest of the UK and Ireland.
The Scottish artist has had an incredible journey since self-releasing his critically acclaimed debut album Erratic Cinematic, which recently rocketed back to the top of the UK/IRE Album Charts; hitting the Top 20 following his latest sold-out UK tour.
Unmatched in his ability to operate outside of the mainstream, Gerry, while choosing to remain unsigned, has become a cult hero and force to be reckoned with; his latest release Canter clocking in at number 3 on iTunes on day one of release.
His inimitable live shows are infamous for their wild atmosphere and special sing along moments; with his crowd singing every word – to every song – many before they are even released. His upcoming arena tour dates across the rest of the UK and Ireland are already sold out; with over 80,000 tickets gone within hours of going on-sale; an unprecedented feat for an unsigned artist.
On his winter tour dates, Gerry says: 'The last stint was top class. Expect nothing less from these gigs. The live shows have become something pretty special. There's something happening, I don't know what it is but it's happening, you can feel it, its undeniable. To be honest I've been trying to keep a lid on it but the bonfire's lit now and folk are asking for it so let's see how deep the rabbit hole goes.'
On life since his debut album Cinnamon says: 'I just put the album out there, on my own, no plan really just thought if folk like it they'll listen to it, if they don't they won't. Then it kicked off a bit and I had to book some gigs. They sold in seconds so we booked some more, venues got further away and bigger, same again. And repeat. Played a few nights in Amsterdam, that was fun. German tour too. I've been touring heavily the last year or so. It's been amazing but now all I want to do is get new tunes out sharpish.'
On his latest single Canter: 'Canter is one of those songs, upbeat, bit of energy to it and a wee bit of knowledge for the ears of anyone who needs it. It's about making a plan no matter what situation you're in make a plan and things will get better. Canter had to be the first new single, folk were shouting for it. I've got plenty more lined up that I want to drop before these next gigs. Sooner the better.'
Gerry Cinnamon's self-produced, self-released debut album Erratic Cinematic rocketed to the top of the iTunes album charts on release with little more than a social media post; holding off some of the biggest names in music. The album has now sold 89,000 in UK (BPI certified silver).
Important Ticket Information

Ticket purchases are limited to 4 tickets per person.

Name of lead booker printed on each ticket. To gain admission to the concert, the attendee must bring a valid photo ID matching the customer name on the booking confirmation.

The only places that tickets purchased here can be re-sold to another customer for entry to the show is through Ticketmaster's Fan-Fan Ticket Exchange https://www.ticketmaster.co.uk/ticket-exchange and one other authorised resale platform, see the artist's website for details. Other than this tickets are strictly not transferable.

The event ticket is a personal, revocable license and, at all times, remains the property of the Promoters. This ticket must be surrendered to the Promoters upon request.

The event ticket is sold by the Promoters directly to the Consumer. Any tickets purchased by business or traders in breach of the Terms and Conditions of Ticket Sale will be cancelled.

The event ticket will IMMEDIATELY BECOME INVALID if resold OR OFFERED FOR SALE unless the sale is through our official face-value resale partners.
20 - 21 Dec / 19

£26.65 - £36.90
(inc admin fee) + fulfilment

Accessible Ticket Booking Line:
0800 952 0110

Ticket limit: 4 per transaction

Please read important ticket information for T&Cs

Standing over 16s only. Seats over 5s only. U14s with adult